Free cappuccino for Vasco Watch readers at Ruta's World Café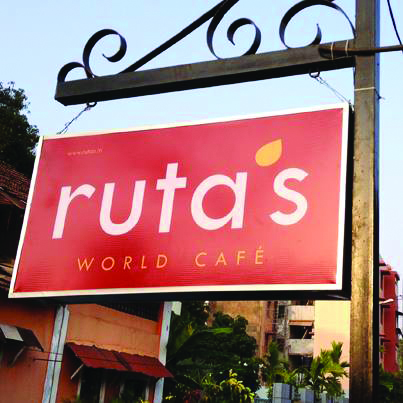 Ruta's World Cafe offers Vasco Watch readers a Free cappuccino along with a regular order. To avail of this offer carry along a copy of our Special 14th Anniversary Issue(published on 29/08/2013) . It will certainly be a satisfying experience that will make you go back for more.
Elegant, cosy ambience and a menu that's in a class of its own. All that and more just a hop away from our neighbourhood at Margao. A place not to be missed for a very eclectic gastronomic experience.
The passion of the people who have put this place together – Ruta and Neville – is evident in every delicious morsel of their fare and attention to detail in the decor.
Their raison d'etre is very succinctly expressed in their own mission statement:
"Ruta's World Café is a local eatery with a global menu. We believe that great-tasting food should also be good for you. We accomplish this by sticking to a few house rules. We're fanatical about fresh, wholesome ingredients. We buy local as far as possible. We bake with pure butter, not poor substitutes. We don't use fillers like corn starch and onions. We avoid anything that's artificial or processed. We cook light instead of hiding behind excessive spices, salt & fat. We obsess about hygiene. We make everything from scratch, right down to our breads. And above all, we really enjoy what we do. Bon appétit! —Chef/owners Ruta Kahate & Neville Desouza"

Connect with them on https://www.facebook.com/RutasCafe
This Cafe has clocked just a couple of months since its opening. It will surely have people making a beeline for its delicious stuff. So discover it before you need to wait in line to get a place.
Visit Ruta's World Café at Dr Miranda Rd, Behind Nanutel, Margao
Tel: 0832-2710757