Goan Godhadis Through the Ages exhibition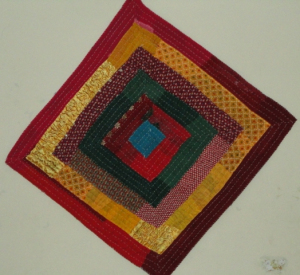 Goa State Museum in collaboration with NAM (Naree Artisans Movement) has been documenting old Goan Quilts, since the beginning of 2013. The objective of this documentation is to have a record of old Goan Quilts and their makers, their stitches, designs and patterns and the stories connected to the Quilts. This documentation has thrown up delightful gems in terms of work done by Goan Women 50-70 years ago. GSM and NAM felt sharing these beautiful quilts with the entire community through an exhibition that would motivate other Goan families to contribute to the documentations of this craft.
The exhibition also features the works of the present generation who participated in the Goa Quilt Design contest 2013, where in the participants had to make the quilt entirely by hand using patchwork or Saris and more importantly using new (Not traditional) designs.
The exhibition was inaugurated on 08th July by Chairperson of Bal Bhavan, Ms. Kunda Chodankar. and is open to public till 08th August.
http://nareeartisansmovement.wordpress.com
(The museum is open from Monday to Saturday between 9.30 a.m. to 5.30 p.m.)