Across the net: The new Rivals -by Nitin Bandekar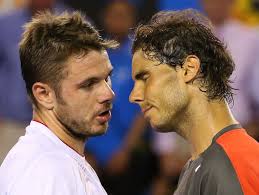 We know of former great players who have exhilarated us in his / her respective field of sport. What is sport anyway without great performances and rivalries!!
Be it football , basket ball , atlectics , cricket, swimming or tennis, we have read about the great players who have competed against each other at the top levels on several ocassions and each game/ match can be described as " just memorable "
In the world of tennis there have been a number of great rivals , Jimmy Connors – John McEnroe , Stefan Edberg – Boris Becker , Pete Sampras – Andre Agassi , Roger Federer – Rafael Nadal , Rafael Nadal – Novak Djokovic and not to forget Novak Djokovic – Andy Murray.
Even in the women's circuit we have had Chris Evert – Martina Navratilova, Justin Henan – Kim Cjlisters , Stefi Graf – Gabreila Sabatini and the most recent Serena Williams -Victoria Azarenka.
We all love to see these great players come out in their best form and feel the energy flow as they battle it out across the nets against their formidable rivals. Time is only a ticking clock for some of them as they keep going on and on – endlessly if I may say.
In the men's circuit there is an addition to this great rivalry. This is Novak Djokovic v/s Stanislas Wawrinka . For many of you who aren't familiar with Wawrinka – he's the new Australian Open Champion and the find in the men's draw since the last two seasons. No, he is not a new entry as you may think but rather a " old bloke " I must say even though at just 28 years old.
Djokovic v/s Wawrinka have had many inspiring battles over the last three meetings between them including the last quarter final at the Australian open 2014. The first two meetings have ended in four and five sets respectively in the favour of the Serb – marginally or for that matter a " squeezing victory ".The third and the most recent meet at this year's Australian open again a marathon five setter was in the favour of the Swiss thus ending the dominance of Djokovic at Melbourne park .
This is the beginning of the season and as the ATP tour progresses with more hard court tennis action, we are going to see more of this new found rivalry between these two great hard court players.Now that Wawrinka is ranked No 3 and by the law of draws would be likely facing Djokovic at the quarter finals of the remaining grand slams that is  if the rankings remain untouched .
So while Federer v/s Nadal and Djokovic v/ s Murray are still something that we all live to watch, don't forget to switch on the television sets the next time round to see the new battle Royale in men's tennis -Novak Djokovic v/s Stanislas Wawrinka.